The Government will not allow Britain to be dictated to by Brussels in negotiations over its withdrawal from the EU, Brexit Secretary Dominic Raab has warned.
Mr Raab said the Government would keep negotiating on the basis of Theresa May's Chequers blueprint for Brexit, despite the rebuff for the plan by EU leaders at last week's Salzburg summit.
Appearing on BBC1's The Andrew Marr Show, he said he remained confident they could make progress, provided the EU side was prepared to show greater flexibility.
He dismissed claims Mrs May could call a snap general election in an attempt to save her premiership following the Salzburg debacle.
"It's for the birds. It's not going to happen," he said.
Mr Raab insisted Salzburg had been no more than a "bump in the road" in the negotiations.
"We will hold our nerve, we will keep our cool and we will keep negotiating in good faith. What we are not going to do is be dictated to," he said.
"We have come up with a serious set of proposals. We are not just going to flit from plan to plan like some sort of diplomatic butterfly.
"We are going to be resolute about this and really press the EU to treat us with some respect."
He said that Britain had shown flexibility in its negotiating position and called on the EU to do the same.
"If we just get this sort of 'computer says no' response from the EU we are not going to make progress," he said.
"We need some flex, some give and take if you like, from the EU and I am confident that, as the fall-out from Salzburg ebbs, we will make further progress."
Mr Raab said the Government was continuing to prepare for a no-deal break, with the next tranche of technical papers due to be published on Monday.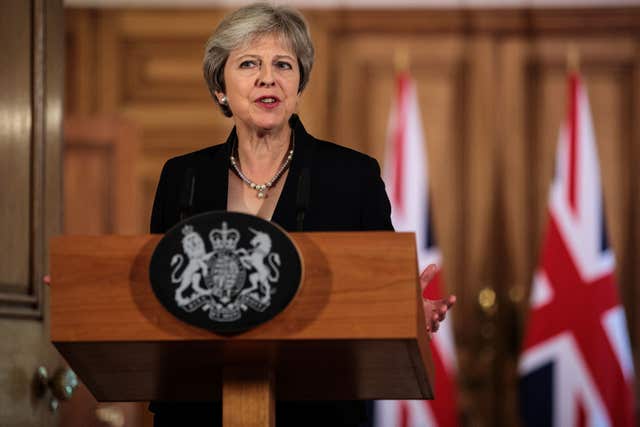 Earlier Mrs May issued an appeal to warring Tories to come together to prevent the opposition parties derailing the whole Brexit process.
Her intervention came as Jeremy Corbyn indicated for the first time he would support a second referendum if the Labour Party conference meeting in Liverpool called for one.
"I have said many times that these negotiations would be tough, and they were always bound to be toughest in the final straight," the Prime Minister said in a statement.
"But what's also clear is that many in Labour, the Liberal Democrats and the SNP are trying to thwart Brexit at every step and seeking to exploit this moment for political gain.
"Some are now openly advocating a second referendum and extending Article 50 to delay Brexit, sending us right back to square one. Others are talking directly to the EU to actively undermine the UK's negotiating position.
"But I say, this is the moment to put our country first. This is the moment to set aside our differences and come together in national unity. This is the moment to do what is right for Britain."