The UK would be welcomed back by the EU if it abandoned Brexit following the general election, the European Parliament's president has said.
Antonio Tajani said all 27 other countries in the European Union would be in favour if a new government decided to reverse the Article 50 process following the June 8 election.
In a sign of the difficulties Theresa May will face if she remains in power after the election, Mr Tajani indicated that any agreement on the rights of EU citizens in the UK – and Britons on the continent – would be subject to rulings by the European Court of Justice (ECJ).
.@theresa_may welcomes European Parliament president Antonio Tajani for #Brexit talks at 10 Downing Street pic.twitter.com/afiebB6ZkH

— Andrew Woodcock (@AndyWoodcock) April 20, 2017
The Prime Minister has made ending the jurisdiction of the court in the UK one of her Brexit goals.
In an interview with the Guardian, Mr Tajani indicated that the Article 50 process could be halted if the Government wanted after the election.
"If the UK, after the election, wants to withdraw (Article 50), then the procedure is very clear," he said.
"If the UK wanted to stay, everybody would be in favour. I would be very happy."
In-depth discussion with @theresa_may on the key issues surrounding #Brexit. @Europarl_EN priority is to protect the rights of citizens. pic.twitter.com/V81nJgK7M9

— EP President Tajani (@EP_President) April 20, 2017
Legal questions remain over whether Article 50 is irrevocable, but Mr Tajani said a political solution could be reached.
"If tomorrow, the new UK government decides to change its position, it is possible to do," he said.
"The final decision is for the 27 member states, but everybody will be in favour."
Meanwhile, the European Commission's draft negotiating document indicated that Brussels officials also believe that the ECJ should rule over the agreement on citizens' rights.
"Under the (Brexit) treaty everything under the treaty is under the court," Mr Tajani said.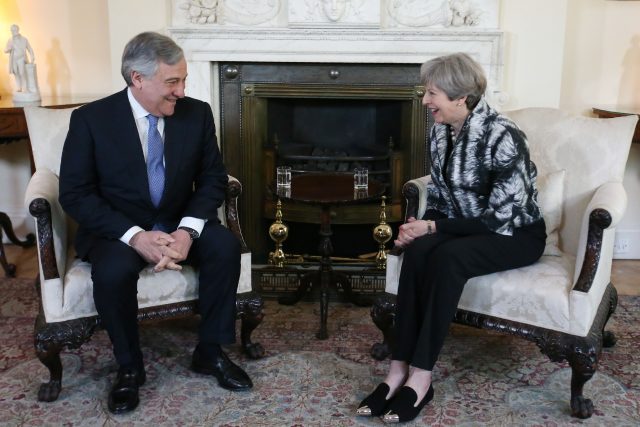 European Parliament President Antonio Tajani talking to Prime Minister Theresa May at a meeting in 10 Downing Street (Daniel Leal-Olivas/PA)
The European Parliament will have an effective veto on any deal and Mr Tajani indicated that a continued role for the ECJ could be a red line.
"Technically it is the only possible solution," he told The Times. "If you want to continue to guarantee citizens' rights you need to refer to the ECJ.
"The European parliament is very clear on this. Citizens' rights is a red line."
The leaked commission document also indicated Brussels is set to demand that Britain pays the cost of moving EU agencies out of the UK after Brexit.
And the European Commission will insist that the UK pays its "divorce bill" in euros, ensuring that Britain bears the risk of any currency fluctuations.