Ministers have been urged to scrap controversial plans for a new wave of grammar schools in England amid growing opposition to the reforms.
Labour's Barry Sheerman, a former shadow education spokesman, said the Government should renounce its proposals to expand selective state school education and invest in all children, rather than the few.
Education Secretary Justine Greening hit back at criticism, saying that the reforms championed by Prime Minister Theresa May would create a system "that works in the 21st Century".
It comes after a cross-party group led by former Tory education secretary Nicky Morgan and ex-Liberal Democrat leader Nick Clegg warned that the proposals would do nothing to promote social mobility among poorer pupils.
Education Secretary Justine Greening (Barry Birchall/PA)Mr Sheerman, speaking during education questions in the Commons, told
Ms Greening: "If you want to make a lot of people happy in this country, you will renounce this dedication to grammar schools and free schools, and invest in the education of all our children up and down this country."
In reply, Ms Greening said: "I have to say, I think you are completely at odds with your own front bench.
"We have no idea what Labour's approach is in relation to selection and I would point out that we will be publishing our white paper in response to our consultation but I suspect that the Labour party will remain a policy free zone."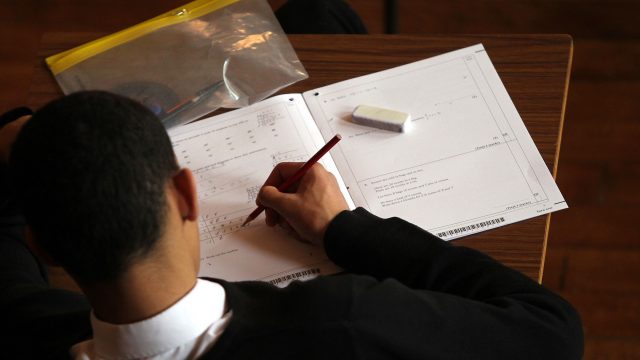 Pupils face a selection exam at the age of 11 (David Davies/PA)
Labour former shadow education secretary Lucy Powell also opposed the plans and criticised Ms Greening for failing to mention the plans during a key Budget speech.
She asked: "Could you maybe clarify for the House, why in your 30-minute opening Budget debate speech on education did the words selection or grammar not pass your lips?"
Ms Greening replied: "I am pleased that the Labour front benches are finally engaging in the fact that actually there is a real chance here to make sure that we have an approach on selection that works in the 21st Century and for our education system as it is today."