FBI director James Comey has confirmed an investigation is under way into possible links between Russia and associates of US president Donald Trump, as part of a wider probe into Russian interference in the presidential election.
This is the first public confirmation of an investigation which began last summer, and it comes at the outset of Mr Comey's opening statement to a congressional hearing examining Russian meddling and possible connections between Moscow and Mr Trump's campaign.
The director acknowledged that the FBI does not ordinarily discuss ongoing investigations, but said he has been authorised to do so given the extreme public interest in this case.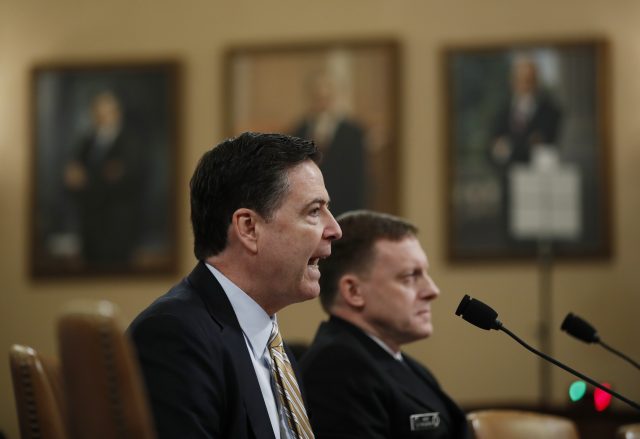 James Comey said the FBI is investigating Russia's bid to interfere in the US election (AP Photo/Manuel Balce Ceneta)
He told the House Intelligence Committee: "This work is very complex, and there is no way for me to give you a timetable for when it will be done."
Under questioning from the committee's top Democrat, Adam Schiff, he also publicly contradicted a series of tweets from Mr Trump which declared the Republican candidate's phones had been ordered tapped by then-president Barack Obama during the campaign.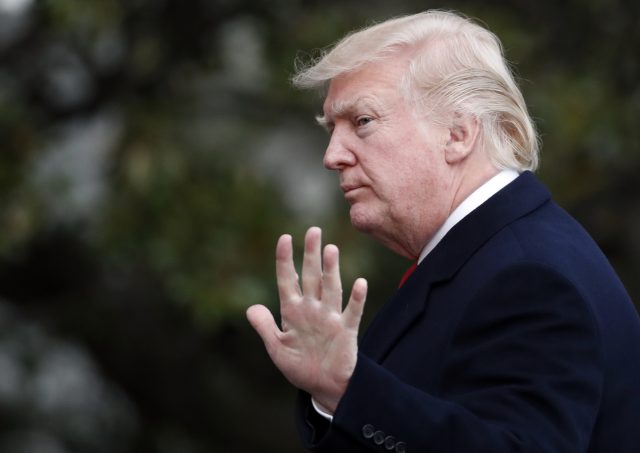 (Alex Brandon/AP/PA)
Mr Comey said: "I have no confirmation that supports those tweets, and we have looked carefully inside the FBI."
The same was true, he added, of the Justice Department. He also disputed allegations that British intelligence services were involved in the wiretapping.
Mr Comey was the latest US government official to reject Mr Trump's claims, made without any evidence, that Mr Obama had wiretapped his New York skyscraper.
What about all of the contact with the Clinton campaign and the Russians? Also, is it true that the DNC would not let the FBI in to look?

— Donald J. Trump (@realDonaldTrump) March 20, 2017
Mr Comey was testifying along with National Security Agency director Michael Rogers.
Mr Trump took to Twitter before the hearing began, accusing Democrats of making up allegations about his campaign associates' contact with Russia during the election. He said Congress and the FBI should be going after media leaks – and maybe even Hillary Clinton – instead.
"The real story that Congress, the FBI and others should be looking into is the leaking of Classified information. Must find leaker now!" Mr Trump tweeted early on Monday as news coverage on the Russia allegations dominated news bulletins.
The Democrats made up and pushed the Russian story as an excuse for running a terrible campaign. Big advantage in Electoral College & lost!

— Donald J. Trump (@realDonaldTrump) March 20, 2017
Mr Trump also suggested, without evidence, that Mrs Clinton's campaign was in contact with Russia and had possibly thwarted a federal investigation. US intelligence officials have not publicly raised the possibility of contacts between the Clintons and Moscow.
Officials investigating the matter have said they believe Moscow had hacked into Democrats' computers in a bid to help Mr Trump's election bid.
The hearing, one of several by congressional panels probing allegations of Russian meddling, could allow for the greatest public accounting to date of investigations which have shadowed the Trump administration in its first two months.
British PM called WH idea the British spied on Trump for Obama "ridiculous." Sad our ally has to say this but exactly right.

— Adam Schiff (@AdamSchiffCA) March 17, 2017
The top two representatives on the committee said documents the Justice Department and FBI delivered late last week offered no evidence that the Obama administration had wiretapped Trump Tower. But the panel's ranking Democrat said the material offered circumstantial evidence that American citizens colluded with Russians in Moscow's efforts to interfere in the presidential election.
Mr Schiff said: "There was circumstantial evidence of collusion; there is direct evidence, I think, of deception. There's certainly enough for us to conduct an investigation."
The Senate Intelligence Committee has scheduled a similar hearing for later in the month.